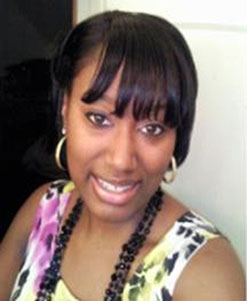 Gabrielle B. James
Region: Western
Program Institution: SUNY Buffalo - Biomedical
Education
High School: Buffalo Academy of the Sacred Heart
Graduation Date: 2005
College/University: University of Richmond
Major/Minor: B.A. Sociology and Pre-Medicine/Minor Women, Gender, and Sexuality Studies
Graduation Date: 2009

Work History
Employer: Roswell Park Cancer Institute
Significant Professional or Academic Accomplishments: Gabrielle B. James is a graduate of the Buffalo Academy of the Sacred Heart and an Oishei Foundation Scholarship recipient. She graduated in June 2005 in the top ten percent of her class, receiving a college preparatory diploma with honor roll distinction. Gabe entered the University at Buffalo Biomedical STEP Program in October 2002 in her sophomore year and completed the program in 2005.
It was in the Fall of 2005, Gabrielle entered the University of Richmond, Richmond, VA. She was also a proud recipient of a full four-year academic scholarship, known as the CIGNA-Oliver Hill Scholars Program. Gabrielle graduated magna cum laude in 2009 with a Bachelor of Arts Degree in Sociology and Pre-Medicine, with a minor in Women, Gender, and Sexuality Studies. Gabrielle diligently completed a community profile project as a student intern at the Susan G. Komen Breast Cancer Foundation in Richmond, VA during her senior year of college.
Gabrielle exhibits exceptional leadership and networking skills throughout the community. She's a strong advocate and believes in the power of giving back and sharing the teachings that she has received. She shows this by being active within the Medical STEP community in addition to the other community/organizations which she is involved in. She most recently served as the keynote speaker for UB Medical STEP's graduation ceremony in April 2011 and wishes to give a helping hand whenever possible.
She has received numerous awards from the Buffalo Club of the National Association of Negro Business and Professional Women's Club, Inc., including the 46th Annual Sojourner Truth Student Incentive Award in 2006, the Dean's List for four consecutive years, and several national honor societies based upon scholarship, merit, and service. The honor societies include Phi Eta Sigma; the Golden Key International Honor Society; Alpha Kappa Delta Sociology Honor Society; and Mortar Board Scholarship and Service Honor Society. Gabrielle has had various leadership roles as a mentor and co-chair in the Peer Advisors and Mentoring (PAM) Program; Pre-Orientation advisor; class representative and advocate of the Women Living and Learning (WILL) Program; an executive board member of the CIGNA scholars program; a junior member of the University of Richmond Board of Trustees; and a student ambassador of the University of Richmond Student Alumni Ambassador Program. It was a distinct honor to be the undergraduate chapter president of Alpha Kappa Alpha Sorority, Inc. and be the recipient of the Alpha Kappa Alpha Sorority, Inc. 29th Annual Leadership Fellows Program II in partnership with General Electric, Inc. in Atlanta, Georgia in 2008. To top everything, Gabrielle, along with two other classmates, initiated an effective movement on strengthening the anti-stalking laws in the state of Virginia in honor and memory of a Richmond student whose life was taken due to multiple stalking incidents.
Currently, Gabrielle is a project coordinator at Roswell Park Cancer Institute where she is conducting a nationally-funded study in the Urology Department titled 'Live Well, Live Long'. The research study examines how men with prostate cancer decide how to treat their prostate cancer and how the decision-making process influences quality of life after treatment. Gabrielle has become whole-heartedly invested in approaching and addressing the political and psychosocial aspects of the healthcare sector that she is continuing her education in the Fall in a Masters of Public Health program hopefully at the University at Buffalo or University of Rochester. Her ultimate goal is to become a healthcare administrator who is responsible for planning, coordinating and supervising the delivery of healthcare services in clinics, hospitals, public health agencies, and managed care operations.