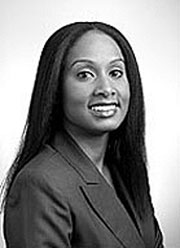 Dana Lyons Haldeman, Esq.
Region: Long Island
Program Institution: St. John's University
Education
High School: Bronx High School of Science
College/University: Binghamton University
Major/Minor: Philosophy/Psychology
Graduate School/University: Syracuse University College of Law

Work History
Employer: Kasowitz, Benson, Torres and Friedman LLP in New York
Significant Professional or Academic Accomplishments:
Dana Lyons Haldeman, Esq. was born and raised in Floral Park, Queens New York where she attended Northside Montessori Elementary School from pre-k up to sixth grade. The Montessori method of teaching and small classroom sizes provided her with the tools necessary to excel at learning at a very early age. Dana went on to attend middle school at Louis Pasteur M.S. 67 in Little Neck, Queens as a member of their advanced SP class program. At the same time that Dana started middle school she also started the Science and Technology Entry Program (STEP) at St. John's University in Queens, New York. STEP played an integral role in Dana's middle school academic performance because it gave her a leg up in the science field, permitting her to take a high school regents level courses in 8th grade. STEP additionally provided numerous educational experiences that her fellow classmates at school had not yet experienced. In this way STEP set her apart and put her out in front.
Dana was later accepted into the specialized high school, Bronx High School of Science, in Bronx, New York due to her excellent scoring on the New York City specialized high schools entrance exam. STEP continued to give her a strong advantage in the science field during her early high school years.
Dana went on to attend Binghamton University, one of the top SUNY schools in New York state, where she majored in philosophy, politics and law and minored in psychology. After college, Dana attended law school at Syracuse University College of Law where she received a dean's list scholarship for all three years of her attendance. While in law school, Dana served as a judicial intern for the Hon. Michele M. Woodard of the New York State Supreme Court during the summer after her first year. Dana graduated Syracuse Law in 2005 and was admitted to the New York state bar in March 2006 after passing the New York state bar exam on her first attempt.
Dana currently resides on Long Island with her husband and daughter and is currently a staff attorney at Kasowitz, Benson, Torres and Friedman LLP in their New York office. Her practice at Kasowitz focuses on complex commercial and civil litigation, including antitrust and securities litigation.
Dana is and always will be a proud STEP alumna.