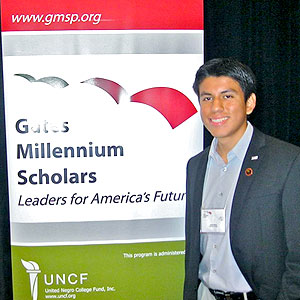 Aaron Perez
Region: Mid Hudson
Program Institution: SUC at New Paltz
Education
High School: Beacon High School
Graduation Date: 2011
College/University: Harvard College
Major/Minor: Aerospace Engineering with a secondary in Economics
Graduation Date: 2015
Significant Professional or Academic Accomplishments: My name is Aaron Perez a recent alumni of the New Paltz STEP program and Beacon High School. I began STEP as a freshman and found the exposure invaluable as I learned about applying to colleges, performed science LABS in a college setting, heard from guest speakers and went on educational trips. STEP's academies really allowed me to start thinking early about my high school path and the road to attending college. As the first in my family to attend college this wealth of information and support allowed me to ask the questions early and put myself in a position to excel. Because of what I learned in STEP I had a strong background to share with my peers whether it was in the sciences or debunking myths about college. Day one of STEP I was encouraged to take as many AP classes as I could, in addition to reading as much as I could for pleasure. This set the tone and I eventually was motivated to take the most rigorous course load in my school eventually going beyond by taking online courses for AP Physics. I also became very involved in my schools extracurricular activities particularly in sports, our math team and The Tuskegee Airmen Red Tails Flying Program. Every month STEP energized me to go back to school and do the best I could.
In the summer of my junior year I attended MIT's 2010 Minority Introduction to Engineering and Science, which allowed me to see that I had the potential to apply to schools like MIT. Having 4 years of STEP under my belt I had an advantage senior year because I anticipated scholarship deadlines, financial aid deadlines and the application process. It felt like I had done everything already and was merely perfecting a package I started the first day of STEP. Through a lot of hard work and support I was granted acceptance to RPI, MIT and Harvard. By the end of my high school career I carried a 4.0 GPA, was Beacon High School's valedictorian, and had attained the Gates Millennium Scholarship, which fully covered college and graduate school.
Now, I am a freshman at Harvard College as a Gates Millennium Scholar. I intend to concentrate in Aerospace Engineering with a secondary in Economics. I will be doing research and studying abroad in the near future. I am aiming to attend MIT graduate school as well as earn a MBA from Harvard Business School. Like in high school I haven't let up on my work and have joined Varsity Heavyweight Crew. Looking back the journey was long and hard but it was STEP that set the pace, laid the foundation and told me I could do it.