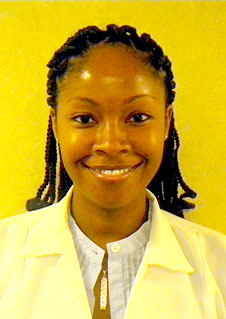 Breeann N. Wilson DPM, MPH
Region: Western
Program Institution: SUC at Buffalo
Education
High School:
Graduation Date: 1997
College/University: Rochester Institute of Technology
Major/Minor: B.S. Biochemistry
Graduate School/University: William M. Scholl College of Podiatric Medicine, Aristotle University School of Public Health Research Institute
Advanced Degrees/Professional Licenses: M.S. Public Health

Work History
Employer: Northtown Podiatry
Significant Professional or Academic Accomplishments: "So what made you decide to work with feet all day?" I cannot tell you how many times in a day I am asked that question. But with a smile I answer "Well I have always wanted to be a doctor and do surgery, but I did not want to deal with death, I did not want to be on call a lot, and I wanted to be able to have time for a family". By the grace of God my dream came true.
It all began in Lewiston NY, where I was born, so according to my husband, I am not a true Buffalonian. I tend to disagree; I did all of my schooling in Buffalo, including attending the best high school in Buffalo, City Honors. During my years in high school I was very fortunate to be able to participate in the S.T.E. P. program at Buffalo State College. I participated in the after school program and in the summer program as well. I absolutely loved and still love the S.T.E.P. program. I can remember doing some of the most interesting projects. My favorite was making a solar powered car! S.T.E.P. allowed me to keep interested and excited about science. I was also able to attend various college tours which broadened my horizons and gave me options about college choices.
After graduating from high school I went to Rochester Institute of Technology where I received my Bachelors of Science Degree in Biochemistry. My podiatric education took place at William M. Scholl College of Podiatric Medicine in North Chicago, IL. During my education I was required to do externships and I chose to go everywhere warm! West Palm beach, FL, Houston, TX, and Phoenix, AZ just to name a few. I soon discovered that my heart longed to be home in Buffalo. I did a two year surgical residency with the Catholic Health System. Wanting to further my education I did another year of residency in Norwalk, CA with an emphasis on rear foot surgery. While participating in residency in California I also attended Aristotle University School of Public Health Research Institute where I received my Masters in Public Health.
The sunshine and beaches were not enough to keep me out west. I came back Buffalo where I joined Northtown Podiatry. I am currently the only African American female podiatrist in Western New York. I treat all pathology related to the foot. It is especially important for me to get our community to understand the importance of proper foot care, even more important for those with diabetes. I have done several health fairs and given lectures on the subject. I also perform and am well trained in surgical procedures treating bunions, hammertoes, heel pain and a myriad of other foot pathology.
In addition to being a "foot doc", I love being involved in my church, Berea Church of God In Christ, where I am a Sunday School Teacher, member of the Hulda Club and on the Finance Committee. I am a member of Alpha Kappa Alpha Sorority Inc. I also participate in Tae Kwon Do where I have a red stripe belt and am working towards a black belt.
I married the love of my life Dorian in 2010 and we are embarking on an amazing life long journey together. I am the second oldest of four children born to Nathaniel and Beverly Lee Jr. My parents instilled a love and fear of God that has brought me where I am today. Without my family and friends I would not be able to do what I love to do. It is my goal to provide the absolute best podiatric care I can for my patients.